In 2014, when we built the first version of our website, we decided we were going to be "the course people." We had a software for course builders, and many of our clients were course builders, so we had to claim the space, we thought.
With all the advice about the importance of niching and only "doing one thing", and being known for that "one thing," we felt the pressure to structure all our services around online courses, because that was the software we had chosen to build...so that's what we had to do, right?
So we built a site that said: hey, we help people launch courses!
And while it wasn't untrue, the problem was we had stopped talking about user experience design, digital strategy, service design, content planning, launch support, web design, web development, mobile apps...(all of the work that we'd done for years that was where the majority of our revenue came from).
We repositioned overnight. We wanted our SaaS to work so badly, that we simply shifted all of our services to support it. This made sense in theory...but it didn't take us long to realize that it was actually much easier for us to sell $5k coaching agreements or $20k development projects than to sell $29/mo subscriptions.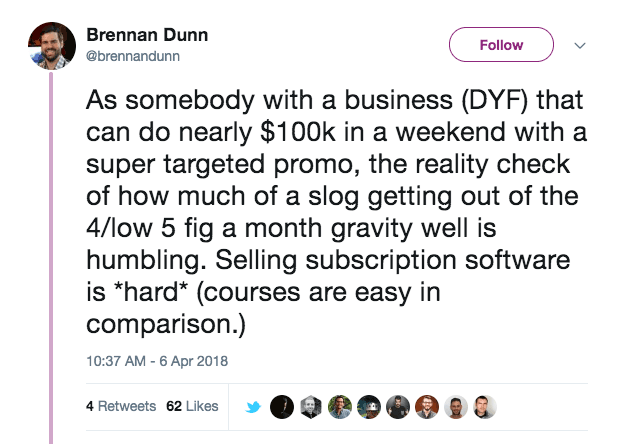 We weren't the only ones who realized that SaaS was a whole different beast than courses...
Why were we working so hard to send people to the lowest priced way to work with us??
We are high-touch people who do services well. It's where we shine!
We get invested in people and their projects. We love long-term deep dive work; it didn't make sense for us to build our whole business around a low-touch offer.
We were caught up in what we thought we needed to offer in order to grow the software side of our business, and we weren't necessarily playing to our strengths (or our interests!).
We had niched our services so narrowly that we were losing out on projects that were fun, challenging, executable, and profitable. We loved our web design and strategy work, our cool development projects, and mentoring and teaching.
Identity Crisis
I went from feeling totally "in my element", to really struggling to find my professional identity as I tried to pigeonhole my services into "online courses." I felt like a beginner all over again.
Having done web design for years, I had those processes nailed, and I knew how to approach those challenges. With people launching coaching programs, online courses, and masterminds, there were new and unique challenges; each client was wildly different from the last, and the same approach didn't work for each client.
Ben himself was going through a similar identity crisis, but with different challenges; his strengths as a programmer were somewhat written off in this new "business." Sure he was building our software, but he was working on fewer client projects that sharpened his development chops and challenged him in new and interesting ways.
We'd both sacrificed so much to grow our software, and realized that we needed to re-evaluate our priorities.
The problem with (niching on) online courses
1. It was way too limiting
We both found "online courses" way too limiting to describe what it was that we really help our clients do.
Certainly our combined years of expertise and amassed knowledge amounted to more than just "online courses." I knew there was so much more that my Design Thinking and Agile background could offer.
We collectively agreed that we wanted to work on projects that:
Made the best use of our natural skills
Brought in good revenue
Were fun + creatively challenging
*When we were honest about the projects we enjoyed most, many of them had nothing to do with online courses! *
Some were web application design projects, others involved designing cross-platform customer experiences, while others involved sales page copywriting, branding, and marketing integrations.
The underlying through-line between these projects was a love for creating memorable user experiences, and helping our clients to do it more sustainably: with less effort, more ease, and less stress.
The other aspect of feeling limited by "online courses" was that the majority of our clients were running coaching programs, and "online course" has a much different connotation than "coaching program," "immersion," "online community, " or "mastermind program." We were seeing opportunities for helping people manage and streamline much higher value offers than just courses.
I started seeing first hand how brand new business owners were expecting to create online courses with very little experience, expecting to make completely passive revenue. Not only that, but people were taking out big loans to build the course of their dreams before really testing their ideas in a smaller way first.
Building a successful business around online courses is the exception, not the rule.
People would sign up for Doki before they had any course material created, and would churn quickly when they realized that an online course was going to take them much longer to build than they initially thought.
The technology solved one tiny aspect of the process, but most people weren't even aware of what the process involved. There was a lot of education and support that needed to happen behind the scenes (regardless of what someone was launching!)
3. It wasn't sustainable
Around this time I had also begun studying permaculture, and was working toward my certification. There's no doubt that immersing myself in these studies was influencing the way I was starting to think about our business.
What is permaculture?
There are so many different ways to define permaculture, but I like Toby Hemenway's explanation:
A set of techniques and principles for designing sustainable human settlements
Some related definitions that start to get to the core of it:
"... a set of design strategies for making decisions and a set of tools for arriving at sustainable solutions."

"It looks towards saving energy, conserving resources and forming long-term interdependent relationships with whole communities of living things."

"Nature, and in effect, life and well-being, health and restoration, is the heart of permaculture practiced through conscious analysis and design."
Permaculture felt like an ecologically influenced offshoot of my design thinking studies, but instead of striving for innovation, we were striving for sustainability and resilience in both life and business.
The permaculture process is not unlike many other design projects.
In permaculture we start by asking:
What is your goal, and what do you want to get out of your land?
Do you just want to grow some herbs, fruits, and veg for the kitchen?
Do you want your backyard to be a therapeutic oasis of calm?
Do you want to live entirely off the land?
Do you want to provide small-scale farming?
There is no right or wrong answer; there is only designing for the existing challenge.
And so we went back to first principles, and we asked ourselves:
What is our goal, and what do we want to get out of our SaaS?
Is it a creative side hustle?
Do we want it to replace our full-time income
Do we want to build it to sell?
What role did we want our SaaS to play in our overall business?
If we were designing our business intentionally from scratch today, what would it look like?
We built our software (naively) out of personal necessity, but we never really stopped to ask ourselves about what we wanted it to look like long-term.
We certainly didn't mean to turn our whole business upside down to try to grow such a narrow part of our business, when we were already successful with services + training.
We decided to "un-niche."
An opportunity
When we built Doki, we had focused on solving the technical challenge of course launching, but it quickly became clear that there were so many other challenges around the process of launching, and these were mostly human challenges (not technical ones).
These challenges were similar whether someone was launching a new service, new product, website, online course, or coaching program, the biggest of which were uncertainty, self doubt, imposter complex, perfectionism, and fear.
Of course, having a strategy (+ cheerleader) in place helps to alleviate many of those fears.
I began to look at activities I was already doing, and asked myself how I could help bridge the gap between our low-end SaaS subscription, and our higher-end, high-touch services.
I started offering coaching engagements that were centered around helping people launch their ideas, regardless of whether or not the format was an online course.
I offered one-off sessions, three month sessions, and even longer engagements while I got to know as many scenarios as I could, and figured out who I could best serve. I was taking my digital strategy experience and focusing it on aspects of launching.
I also spent months casually interviewing people who had online communities, digital products, coaching programs, interesting service-based business models, masterminds, and online courses in order to gather more insights outside of my limited network.
A new set of services emerged that provided the bridge, and allowed me to work in a more hands-on way with clients.
I took what I was doing 1:1 with my clients, and the insights I'd gathered from partnering with instructional designer Stacey Howe-Lott, and built Run Your Learning Launch, a small mastermind program to help people launch their very first online course.
It was a chance to work intimately with people, teach, collaborate with an instructional designer, and help people launch their ideas—and it was FUN.
One of the most interesting observations from running the course was that 50% of the students decided NOT to launch a course in the end, but they were grateful and still had raving testimonials! People were grateful that they didn't waste time trying to create a course when the truth was they needed to get more experience with clients 1:1.
It was awesome to know that people still felt that they'd gotten value, even if it meant taking a step back on their original idea.
Getting back to services that feel good
It took some time to feel like I was "in my element," have standard processes, a track record of successful clients, and pricing that felt good, and a big part of that was no longer feeling limited by a niche we'd chosen.
Ben landed a few fun development projects that reinvigorated his passion for new technologies, got him using some languages and processes he'd been meaning to explore (and working with interesting clients again).
We dipped our toes in the water and called ourselves the course people for a while. We thought we needed to be the course software people. We still love our product and will continue to grow Doki, but not at the expense of our client work.
That's where the real learning and growth happens.
The truth is, we're so much more interested in working with people than software!